The days are growing longer, the weather is becoming milder, the birds are chirping and tweeting and the spring flowers are beginning to bloom. An end is finally in sight to the relentless cold and darkness of winter - time to retire the scarves, gloves and wooly hats and prepare for the spring months. After the long autumn and winter nights, the coming spring always brings much anticipation and relief. There are also the emotional and figurative associations of the season; rebirth, rejuvenation, renewal, resurrection and regrowth. These ideas apply to mankind as well as nature. Spring is a a time of new beginnings and hope, and all kinds of symbolic cultural events are held worldwide to welcome in the new season.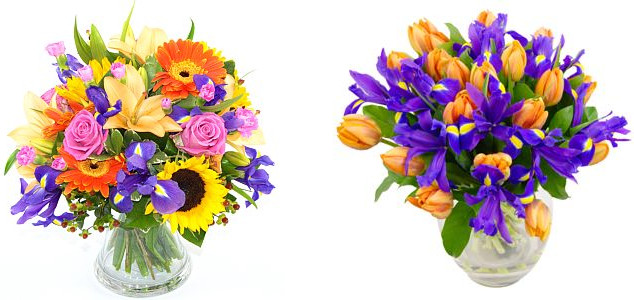 At Clare Florist we've been busy organising a vibrant and colourful array of floral arrangements to welcome in springtime. Tulips, roses, lilies and freesia are just a few of the types of flowers you can expect to find amidst our amazing selection of unique and varied spring flower bouquets. At Clare Florist, our philosphy is that you should never need to sacrifice quality for affordability. With this in mind, we are offering fantastic deals on many of our bouquets, such as the pictured Burst of Spring and Mandarin Blues, each now with £5 off. This price even includes free standard next day delivery. These radiant bouquets can be used to enhance your home or can be gifted to a friend, loved one or relative on any special occasion. So banish the last of your winter blues today with one of these exquisitely cheerful springtime bouquets!
Feel free to add a comment...