Hi,
I have just realised that we are currently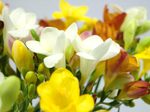 offering 30 stems of Freesia for the price of 20, and this is all for the excellent price of £19.99 inclusive of delivery throughout the UK, 6 days a week.
Freesias are known by everyone for their delicate scent. Everytime youwalk in a room you will be bowled over by the strong sweet scent.
Buy them now by using this link.
These beautiful flowers are from our new "Summer Flowers" range, and are are just one choice from a huge variety of flowers available for you to send throughout the UK whatever the occasion from Clare Florist.