Chrysanthemums
Chrysanthemums, often called 'mums' or 'chrysanths', are a genus in the family Asteraceae. These pretty, round-faced flowers are native to Asia and North-eastern Europe. Chrysanthemums were first cultivated in China as a flowering herb as far back as the 15th century BC.
A term like 'mums' might lead you to think of these as a fairly homely sort of product, but chrysanthemum flowers are an important and ancient flower with an enormous mystique to underpin their undoubtable beauty. In traditional Chinese art, four plants were known as the "Four Gentlemen" because of their elegance and pure beauty, which made them ideal for the tasteful, refined style of the great Chinese artists. These plants were the orchid (representing spring), bamboo (summer), peach blossom (the winter) - and representing the beautiful Chinese autumn, our old favourite the chrysanthemum.
It was not until the 17th century that the chrysanthemum finally made it over to Europe, to eventually become one of our best-loved flowers for gardens, bouquets and arrangements. The first ones brought to this side of the world were golden in colour, leading to the name chrysenthemum, which in Greek means simply, "golden flower".
Chrysanthemum flowers occur in various forms, and can be daisy-like, decorative, pompons or buttons. This makes them great for arranging with other flowers in bouquets, as the versatility of the chrysanthemum allows us to select the ones which will go best with the surrounding blooms.
We offer free standard next day delivery on our gorgeous range of Chrysanthemum bouquets, ensuring they arrive with you in fresh condition ready for placing in a vase.
Order Chrysanthemums and add a drop of colour to your home
Chrysanths also have a wide range of practical uses; as well as the splendour of their appearance, these little gems have a wonderful range of culinary uses, many of them imported from ancient Chinese tradition. The flowers can be used to make a delicate floral tea; as well as being a refreshing drink, chrystanthemum tea is extremely significant in various branches of Chinese folk medicine. In Korea, meanwhile, chrysanthemums are used to flavour a type of rice wine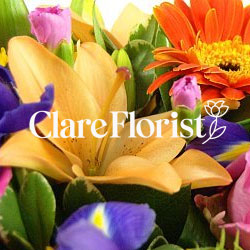 Flower Gift Voucher - The perfect gift for flower lovers
Seeking a gift for that hard to shop for loved one? Send a floral gift voucher so they can pick exactly what they want.
Your gift voucher will be delivered directly to the recipient via email - you can send right away, or specify a future date if it's for a special occasion.
Simply choose the amount, add to basket, and then let us know who it's for. Make sure you have the correct email address for the recipient as we'll email their gift voucher to them directly.
Any remaining balance left on the voucher can be used for future orders.
Buy a Gift Card