Thank You Flowers
Thank You Flowers - The Ideal Expression of Gratitude
There is no better way to express your gratitude than a beautiful bouquet of Thank you Flowers. Here at Clare Florist we have a beautiful collection of floral thank you gifts to express your thanks. When someone has really gone the extra mile or done you a solid favour, why not send Thank you Flowers as a lovely gesture to demonstrate your thanks.
Guaranteed to show appreciation and acknowledge a kind deed, our wonderful selection of hand-tied bouquets of thank you flowers are the ultimate way to say 'merci', 'danke', gracias or just plain 'thanks'! Our thank you flowers are delivered next day, ensuring that they arrive fresh.
Thank You Flowers Delivered by Clare Florist
Nothing is a bigger slap in the face than when you go out of your way to do something kind and thoughtful for someone, and they don't thank you. Too many times others in our lives do specific things to brighten our day, or to make the load of our hours easier to bear. It's also true that sometimes just saying "thank you" isn't enough.
Sending flowers as a "thank you" not only makes sure that the person gets the message that you are grateful for them and all they do, but it also gives that person something bright and beautiful to keep. Seeing these flowers will remind them of you, and how good it felt to do something nice.
Say Thanks with a Beautiful Bouquet of Colourful Flowers
We have a large selection of flowers to choose from, so you'll have plenty of options to browse. Pick flowers that are personal to your special someone, or choose flowers that match the occasion. Did they help you plan your wedding? Choose a more formal bouquet. Did they pick you up from the train station when it was raining? Choose a bouquet that displays their favourite flower or colour.
Imagine the smile on your friends face when they receive these fresh flowers. We can include a box of chocolates, a soft teddy and a handwritten note with your flowers for a full thank you gift set.
All of our Thank You Flowers come inclusive of free standard next working day delivery. Both Saturday and Sunday delivery are available for a small surcharge.
If you need to say Thank you today, then here you can find our Same day flowers and arrangements.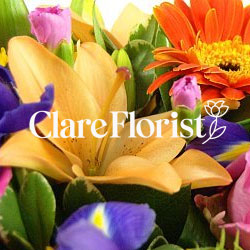 Flower Gift Voucher - The perfect gift for flower lovers
Seeking a gift for that hard to shop for loved one? Send a floral gift voucher so they can pick exactly what they want.
Your gift voucher will be delivered directly to the recipient via email - you can send right away, or specify a future date if it's for a special occasion.
Simply choose the amount, add to basket, and then let us know who it's for. Make sure you have the correct email address for the recipient as we'll email their gift voucher to them directly.
Any remaining balance left on the voucher can be used for future orders.
Buy a Gift Card