Flower Meanings
Flower Meanings

Alstroemeria
Alstroemeria flower has many meanings from showing a friendly message through to motivating someone who needs a little moral support. The alstroemeria demonstrates devotion and friendship as well as showing achievement of aspirations, making it the perfect good luck gift or token of companionship.

Carnations
Carnation flower represents an image of sentiment, love, and affection. Many people consider the Carnation as an ideal present for their partners. Affection is always close to love, so if you would like to tell somebody that you love them or you just want to get close to them, the Carnation will send the right message to that person.

Chrysanthemums
Chrysanthemums represent good energy and positivism. If you want to make someone's day beautiful or cheer them up, then a bouquet including Chrysanthemum is the perfect choice.

Freesia
Freesia's are often thought of as a flower of trust and can be given to show someone you trust them completely, no matter of the nature of the relationship. On the other side, you can also express your own honesty and openness about the way you feel through the Freesia.

Gyp
Gypsophilia is often linked with freedom, innocence and purity. It is frequently used for new born babies or as a gift for a new mother.

Hypericum
Hypericum is often referred to as St John's Wort due to its medicinal purposes, as such it is thought to provide special protection. The perfect addition to a bouquet for someone needing looked after.

Iris
Iris means faith in better tomorrow and in better days that are about to come. If you want to express your support and love towards someone who is going through some tough times, the Iris flower would be a perfect, encouraging gift. Iris flower generally has an overall positive and good meaning, teaching you to look forward to new chances and new beginnings in life.

Lily
Lilies most commonly mean devotion or purity, though meaning can vary by type of lily, culture, and colour. Because of the Greek myth of Hera and Zeus, lilies are associated with rebirth and motherhood. In China, lilies are used in weddings because they are tied to 100 years of love.

Roses
Roses are most commonly associated with love and romance. Roses can also mean secrecy or confidentiality.
Solidaster
Solidaster, also known as Goldenrod, has a few meanings including growth, encouragement, caution, good luck and good fortune. The flower also provides support in difficult times - give a big bouquet to a friend who could do with encouragement and support.

Statice
Statice symbolizes remembrance, if you would want to remind someone of you, send them a bouquet, but if you grieve over someone, then Statice is the perfect flower for taking it to the cemetery and show that you will never forget that special someone in your life.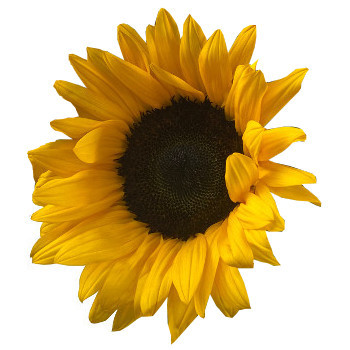 Sunflowers
Sunflower is a symbol of family and love. If you neglect someone important in your life, this flower will remind you that you need to change this situation, you must pay attention to that person and you must be sure that you will again establish a strong relationship between you. You must not lose people who are important to you, this flower talks about true values and always puts them in the foreground