Hypericum
It's a flower, it's a legend, it's a cure for sadness! Hypericum, also known as St. John's wort, is an ancient British flower steeped in rich folklore. Even today, St John's wort is prescribed by doctors as a cure for mild depression.
As a cut flower, hypericum is widely loved for its pretty appearance. The petals of St John's wort bloom wide and vibrant. Though in certain places in the wild hypericum is regarded as something of a weed, the varieties which make it into our bouquets at Clare Florist are ornamental flowers to the core; showy, extravagant, fabulous.
Order Hypericum Online with Clare Florist
Hypericum is a genus of flowering plants in the botanical family Clusiaceae. A bouquet featuring hypericum will always carry with it a little bit of wild, British hedgerow magic with it – try arranging your bouquet by a window facing out into the garden, or as part of a themed table setting with plenty of foliage and small wildflowers strewn on the tablecloth around this magnificent centrepiece
However you choose to arrange your Hypericum Bouquet, you can be certain that our fantastic team of expert florists here at Clare Florist will put it together with care and loving attention, making sure that the bouquet you receive (all available for free next day delivery!) will be a wonderful piece of craftsmanship and beauty.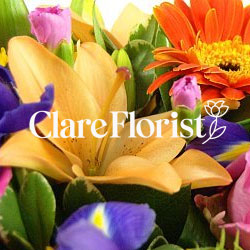 Flower Gift Voucher - The perfect gift for flower lovers
Seeking a gift for that hard to shop for loved one? Send a floral gift voucher so they can pick exactly what they want.
Your gift voucher will be delivered directly to the recipient via email - you can send right away, or specify a future date if it's for a special occasion.
Simply choose the amount, add to basket, and then let us know who it's for. Make sure you have the correct email address for the recipient as we'll email their gift voucher to them directly.
Any remaining balance left on the voucher can be used for future orders.
Buy a Gift Card