Autumn Flowers
Autumn Flowers Bursting with Rich Seasonal Tones
Around this time of year our gardens begin to fade, so many of us turn to our own homes for a reminder of colour and verve. With that in mind we've arranged a spectacular collection of Autumn Flowers bursting full of rich colours and tones to surprise your special someone. Giving flowers is a sweet gesture that can be done any season of the year and sending autumn bouquets is perfect for celebrations happening in fall, such as engagements, bridal showers and weddings.
The following flowers have all been especially selected for their warm tones and rich timbre, complementing the shortening evenings and chilly air like a mug of hot chocolate and a warm crackling fire.
You can send autumn flowers for birthdays and anniversaries, or as a way to say thank you, congratulations or sorry. If someone is under the weather with the Autumn sniffles, why not send them a bouquet of autumn flowers to say get well soon.
Inspired by seasonal hues such as orange, red, yellow and green, our autumn collection is very stylish. If you want to add a touch of seasonal colour to an interior decor space, a bouquet of Autumn flowers by Clare Florist.
Your bouquet of Autumn Flowers will be carefully wrapped and presented in our specially designed box, which is made from recycled products. It doesn't stop there; for our vibrant autumn flowers, we can deliver your bouquet anywhere in the UK -- seven days a week!
And though we wouldn't want to get ahead of ourselves, we're already selecting our range of Christmas flowers for the festive season too!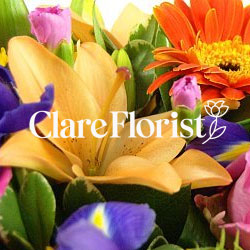 Flower Gift Voucher - The perfect gift for flower lovers
Seeking a gift for that hard to shop for loved one? Send a floral gift voucher so they can pick exactly what they want.
Your gift voucher will be delivered directly to the recipient via email - you can send right away, or specify a future date if it's for a special occasion.
Simply choose the amount, add to basket, and then let us know who it's for. Make sure you have the correct email address for the recipient as we'll email their gift voucher to them directly.
Any remaining balance left on the voucher can be used for future orders.
Buy a Gift Card