Alstroemeria
What are Alstroemeria flowers?
Alstroemeria! The Peruvian Lily, the Lily of the Incas... or even "Ulster Mary" (say "Alstroemeria" fast to see where this name comes from!). This plant goes by many names; thankfully, they're all just as pretty. These Latina beauties hail from sunkissed areas of South America where their lush green foliage and outstanding bright blooms peek out amongst the dense beauty of the jungle.
Where are Alstroemeria flowers from?
Originally, these stunning flowers come from just two areas - one in Eastern Brazil, and one in Chile. They have big, showy flowers with six petals. Some Alstroemeria have vibrant colours which make a bouquet vivacious and exciting. Others are more restrained; the cool pale alstroemeria in our wedding bouquets add a gentle touch of class.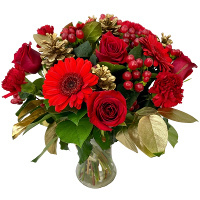 All That Glitters
inc. Free Standard Delivery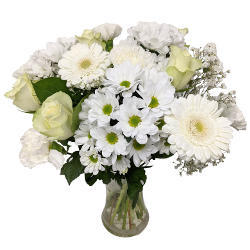 Fresh White Bouquet
inc. Free Standard Delivery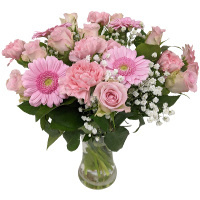 It's a Girl! Baby Bouquet
inc. Free Standard Delivery
Where do Alstroemeria flowers get their name?
The alstroemeria flower derives its name from a Swedish botanist called Baron Klas von Asltroemer. In the middle of the 18th century he travelled to Spain and gathered the seeds of this alluring South American bloom.
As well as being symbolic of wealth, good luck and fortune, the alstroemeria is also thought to be the flower of friendship. Available in a multitude of different vibrant colours, alstroemerias tend to bloom in late spring and early summer.
Where can I buy Alstroemeria flowers?
And of course like any bouquet from Clare Florist, the Alstroemeria bouquets which we offer to you are available for FREE next-day delivery, and come with a range of amazing extras. And most importantly of all, when you send flowers online using Clare Florist's online flower delivery service, you know that your flowers have been lovingly arranged, hand-tied and packed by expert florists who love flowers, and love making your Alstroemeria bouquet look, smell and feel amazing!
Order Alstroemeria for a Perfect Gift
Whether you are celebrating a birthday, anniversary or simple want to brighten up your surroundings, when you order alstroemeria flowers from Clare Florist we will ensure it arrives with you in excellent condition. All of our alstroemeria bouquets are guaranteed for freshness and are a superb gift for friends and family.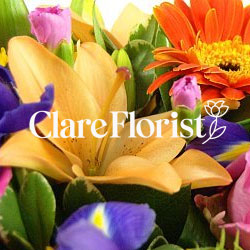 Flower Gift Voucher - The perfect gift for flower lovers
Seeking a gift for that hard to shop for loved one? Send a floral gift voucher so they can pick exactly what they want.
Your gift voucher will be delivered directly to the recipient via email - you can send right away, or specify a future date if it's for a special occasion.
Simply choose the amount, add to basket, and then let us know who it's for. Make sure you have the correct email address for the recipient as we'll email their gift voucher to them directly.
Any remaining balance left on the voucher can be used for future orders.
Buy a Gift Card