Iris
Send Iris with Free UK delivery
The name 'iris' comes from the Greek word for 'rainbow', which is completely apt when you consider the dizzying range of colours they come in! Bright, showy and audacious, the iris is a plant that refuses to be ignored. Bouquets of irises are always exciting to send, and a joy to receive!
Iris flowers generally come from the Northern temperate zones – the continents of Europe, the Middle East, Northern Africa and North America. They're one of those plants that make you glad that horticulture came about, just so that we could get these fun and exciting flowers!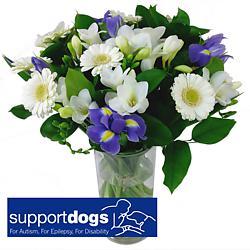 Support Dogs Charity Bouquet
inc. Free Standard Delivery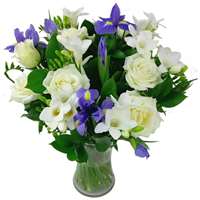 Serene Dreams Bouquet
inc. Free Standard Delivery
7 Day Freshness Guarantee
Free UK next day delivery
If you're an ardent mythology buff, you may already be aware that iris flowers derive their name from the ancient Greek goddess Iris. Some depictions of Iris even involve multi-coloured flowers being incorporated into parts of her robe and dress. This inspired a practice whereby Ancient Greeks placing purple iris flowers on women's graves with the idea that this would attract the attention of the goddess Iris who would lead their dearly departed to heaven.
There are many different symbolical meanings associated with irises when it comes to the language of flowers. These include purity, innocence, wisdom, hope, passion and faith. Different colours can represent different meanings; for example, purple irises are said to symbolise royalty.
Iris Flower Delivery with Clare Florist
And of course when you order an Iris Bouquet for free online next-day flower delivery, anywhere in the UK, you're safe knowing you're covered by Clare Florist's 100% Satisfaction Guarantee.
Send Iris Flowers Online
Our professional florists love arranging and sending irises: order a bouquet of these thrilling rainbow-hued flowers today, and you'll find out just why our customers love us so much!
Give the Gift of Flowers
Are you looking for a gift for a loved one and don't know which one to choose? Send a flower gift voucher so they can choose exactly the flowers they want.
To order simply choose the amount you would like, add to basket and then let us know who it's for. Make sure you have the correct email address for the recipient as we'll email their gift voucher to them directly. You can also select a future date if you want it sent to them on Valentine's Day or another special occasion.
Best of all, any remaining balance can be used for future orders so they don't need to spend it all in one go!

Buy a Gift Card