In recognition of their spectacular success, Clare Florist has added the "Colours Collection" as well as an expanded selection of note cards to their web site. July 23, 2007
As online flower sales blossom, and on the occasion of their ninth web anniversary, Clare Florist has introduced two fresh new items to their web site.
Online sales of flowers within Europe are forecast to grow by over 20% per annum over the next 4 years.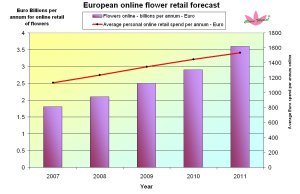 The total annual European online retail market value for flowers is about 1.8 billion Euros (£1.3 billion) in 2007 and is forecast to grow to 3.6 billion Euros in 2011 (£2.6 billion).
Annual average spend for all items purchased online is also forecast to increase from 1132 to 1536 Euros over the same period. (£800, £1090 respectively).
Clare Florist are well placed to take advantage of this projected growth specifically within the UK with a variety of initiatives and improvements two examples are :
1. To celebrate 9 years of online flower sales (Amongst the very first florists in the UK to have an online presence with a website in 1998) Clare Florist have launched "Colour Collections" range of flowers for delivery throughout the UK. This range of flowers has been designed by our expert florists specifically to make buying flowers an extremely pleasant, quick and easy process for everyone ordering online. The additional advantage of this range is that they also provide the customer with a larger than normal bouquet - all for only £34.99 inclusive of UK delivery.
How do we do this? Simple -- the customer selects the colour of flowers they want and then we hand select more of the best seasonal flowers and deliver them next day throughout the UK without any fuss.
2. Clare Florist have also increased the range of free personalised message cards available. This additional service allows customers to select from a wider variety of printed cards one that suits their particular situation and onto which they can add a personal message - this is then delivered with the flowers making for a more complete and personalised flower delivery. (Some florists charge for this service - if available)
Background to Clare Florist
Clare Florist supplying lovely flowers throughout the UK without any fuss via the internet and freephone number 0800 073 7676.
Originally formed in 1978, Clare Florist has grown steadily to become one of the leading online flower retailers within the UK. This growth has been built on a reliable, comprehensive and easy to use website along with a secure and effective online ordering process. All major types of credit and debit cards are accepted.
All the flowers purchased by Clare Florist come directly from (usually) the Dutch markets and, along with the excellent packaging used, freshness is maintained to the final customer.
Forecast data based on a Forrester Research report dated 29th June 2006.