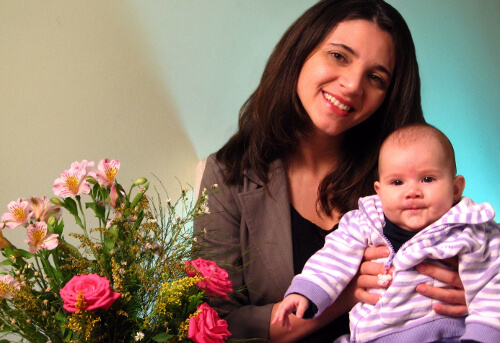 Feliz dia de la madre! Schonen Muttertag! Buona festa della mamma! No matter how you say it, the day of celebration for the woman who brought you into the world is undeniably an international phenomenon. Mother's Day in its modern form began in America in the early 20th century and nowadays falls on different dates and has different customs and traditions throughout the world. In some countries, globalisation has led to an Americanised take on the holiday whilst in others, older traditions celebrating Motherhood are still prevalent.
International Mother's Day falls on Sunday the 8th of May this year. To celebrate, we've got some colourfully designed Mother's Day flower bouquets which are positively brimming with the good cheer and optimism of the springtime season. Wherever you are in the world, if your mum is in the UK and you'd like to send flowers for International Mother's Day you can rely on Clare Florist. You can have any bouquet delivered with free standard next working day delivery or you even have Saturday or Sunday delivery for a small surcharge.
As well as flowers we also have available many add on gifts such as a stylish glass vase, a box of delicious Thorntons chocolates, a large teddy bear and handwritten cards to deliver a personalised message of love! If you want to surprise your mum with a really bountiful bouquet, you'll be delighted to learn that many of our bouquets have the option of upgrading to a deluxe size for a very reasonable surcharge. We use only the freshest premium grade flowers in all of our bouquets to ensure that your floral gift makes an overwhelming impression.
1 response to International Mother's Day 2016
#1 Kerwin Maude on May 09 2016 at 3:26 PM

Mother's Day and Father's Day is a annual celebration of life in being good parents to the future generation of guardians and inhabitants of this world. We joyously celebrate the institution of the family on two special calendar dates when, in reality everyday is special priviledge and honour to see our kids grow up healthy, safe, strong and hopefully guided by a moral compass to know right from wrong and to have an aim to make this world better. It is a Mother's hope and a Father's that, we could live in a world free of corruption, insufferable poverty, wars, famine, chaos, homelessness and more. Let us never give up hope up on that utopian dream even if it seems impossible. Whether you are a parent, expecting one, adoptees or have elderly folks in your life - treasure them and learn; like a candle flickering in the wind we are all here for a short time. When we are young we're fueled by an invincible feeling, and in our aging years we realize the reality that life is short. Happy Mother's Day and Father's Day to all and may we aspire to do better and inspire our kids to a higher goal. Love your parents when they are with us, and remember them to when they are gone.