For the last couple of weeks, we've been bringing you some 'weird and wonderful' flowers which might…well, might leave you feeling a little bit unsettled. First we gave you the Black Bat Plant, which for all its undoubtable beauty does have a certain chilling majesty. And last week we showed you the bizarre 'eyeball' and 'doll's eye' plants, which …well, quite frankly we haven't been sleeping too good since.
So this time around, instead of bringing you some putrescent Carrion Flowers or something, we thought we'd take a nice break from the scary side of flowers, and show you instead a flower which not only looks great, but has some amazing legends attached to it.
So ladies and gentlemen, we give you – the Helleborus niger. The Christmas Rose. A delicate, white flower which flowers in early spring, and even winter.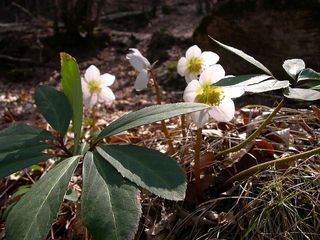 The name comes from a charming folktale. The story goes that, in certain places long ago, it was a tradition to offer a gift on Christmas Day to the baby Jesus. A poor young Jewish girl, upset because she had no gift to offer to Christ, began to cry. And where her tears landed, the delicate petals of the Christmas Rose emerged from the snow.
Another story also connects the plant to Christmas; at one time it was used at Christmas to predict the weather for the coming year. People would cut twelve flowers on Christmas Eve, and place them in a vase. Each flower represented a month of the year to come. The flowers which opened meant months which would have good weather – those which stayed closed spoke of less clement times.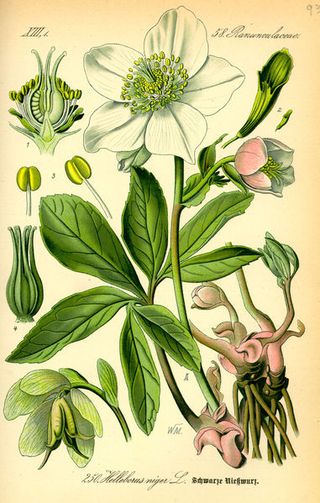 Going back before Christianity, 'hellebore' has an exciting history both as a medicine and as a poison – although it may be that this plant was 'white hellebore', or Veratrum album, rather than the Christmas Rose. This plant was used by the great Hippocrates, the 'father of Western medicine', as a purgative. Hellebore poisoning has also been blamed for the death of Alexander the Great, and was used to poison a city's water supply during the Siege of Kirrha in 585 BC.
But enough of these dark tales! Today's is to be a happy blog, remember? So we'll leave with heads full of Christmas magic, life-saving medicine – and a beautiful white flower that blooms in the winter.