Trips to the beach, holidays abroad, dining al fresco, drinks in the garden, picnics in the countryside, music festivals, light nights, warm weather and seasonal summer flowers in bloom. These are just a few of the telltale signs of the season of summer.
A quick skim through the above makes it easy to realise why summer is so high up on everyones' favourite season of the year lists.
From our perspective, summer is also of course undeniably all about flowers. With this in mind, let's have a look at our top 5 summer flower arrangements.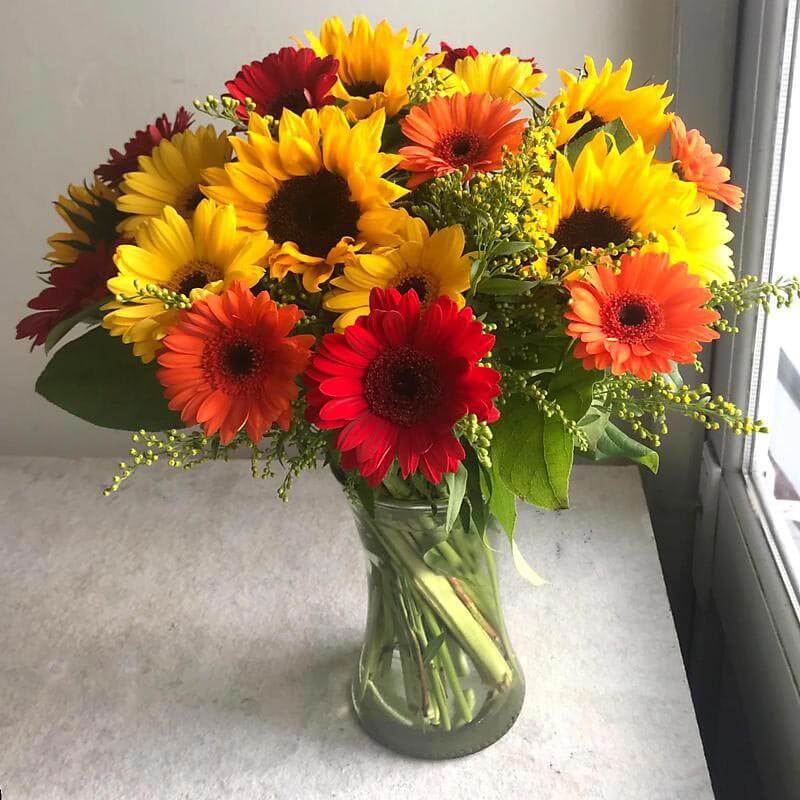 Somewhere is the season of sunshine (in theory anyway; those of us in the UK may sometimes beg to differ on this!) As such, we felt the need to create a bouquet which we felt exuded the warmth of the sun on hot summer's day. The result is an exuberant arrangment of fresh germinis and sunflowers in vibrant red, yellow and orange hues. It's like a blazing summer sunset in a vase!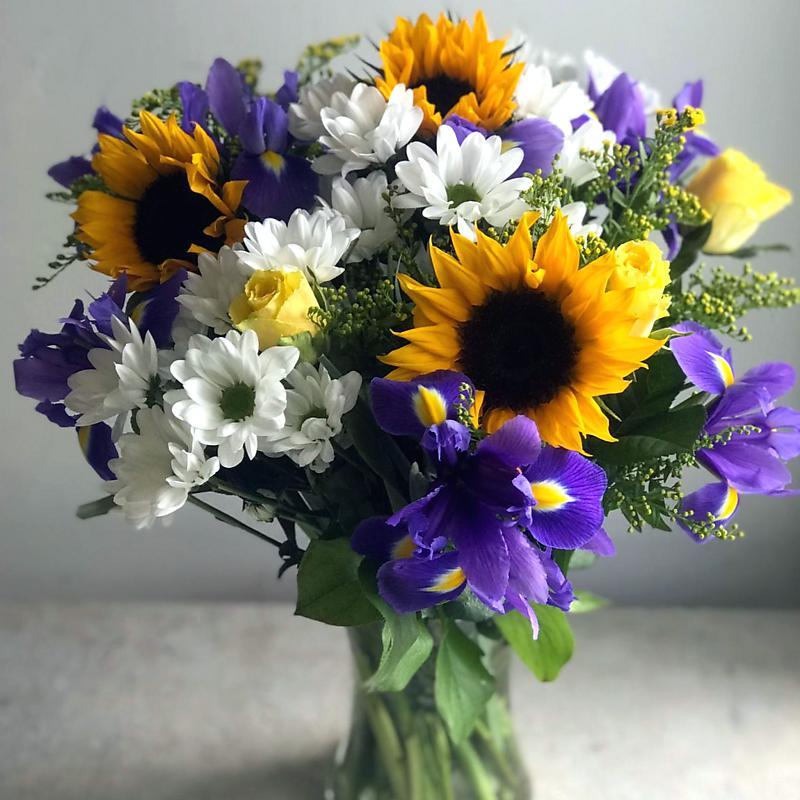 This one always makes us think of the sun blazing over a flower filled meadow. Do you see it too? The yellow roses and sunflowers represent sunlight whilst the white chrysanthemums and lilac iris mingled with greenery represent a flowery field. Finished with a smattering of fresh solidaster, the Summertime Daze manages to bring the natural beauty of the season from outside into your home.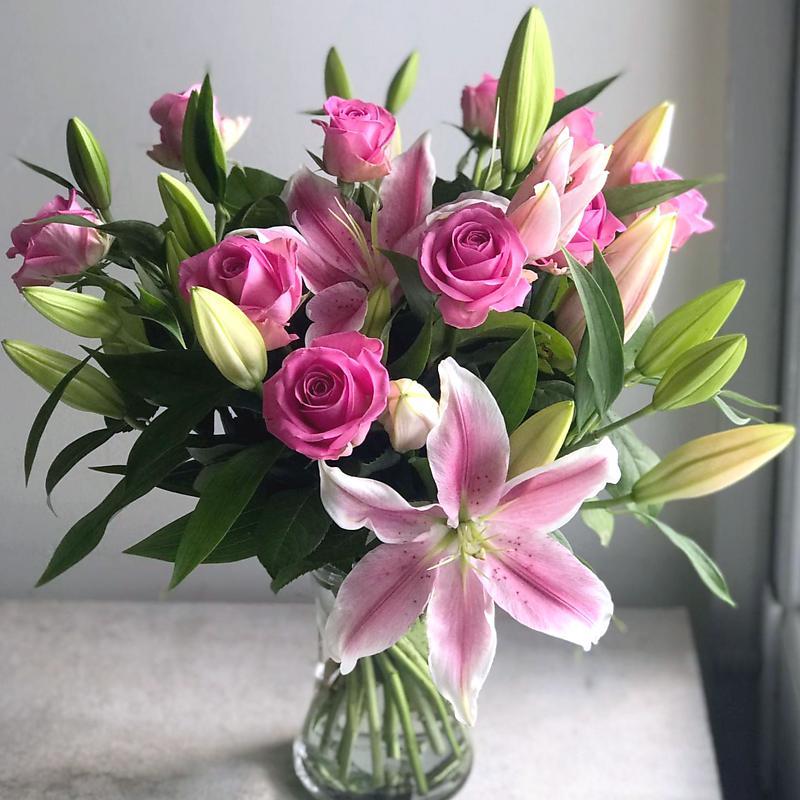 With its soft pink lilies and roses mingled amidst fresh greenery, this eye-catching bunch is a great gift for summer birthdays, anniversaries, house-warming events, garden parties and any other kind of celebration or gathering. We send your flowers in bud so you get to enjoy the feat of watching the lilies bloom in full over several days.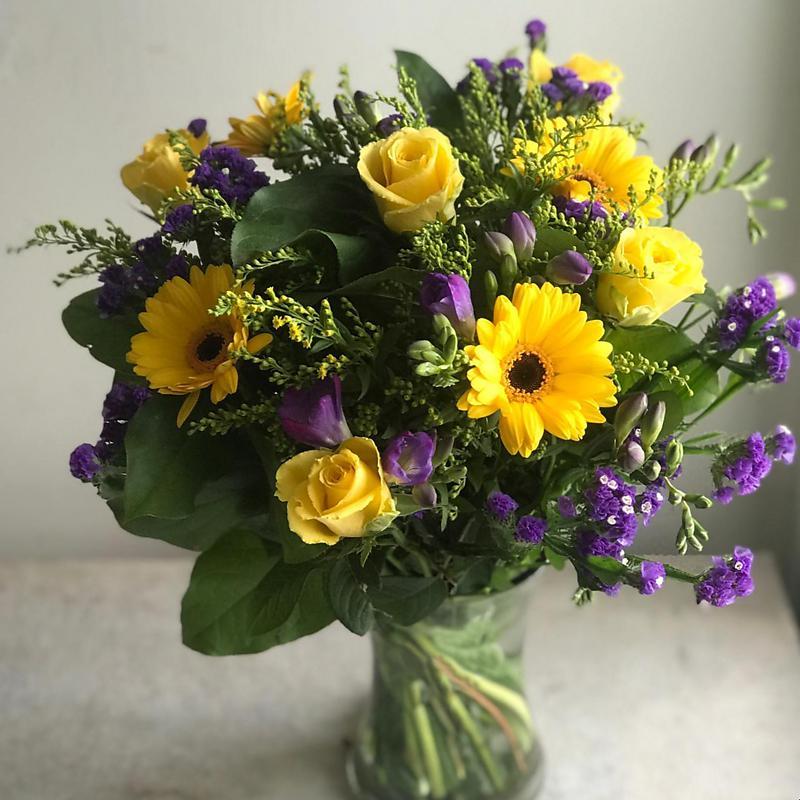 Summer tends to be a time of good cheer (for the most part, anyway). We Brits can be a grumpy lot, but it is easier to shrug off petty grievances when the sun's shining down from a pure azure sky (if it's overcast and rainy in July that might be another matter). To represent the cheerfulness of the season, we've created the Summer Cheer Bouquet which contains fresh germini, freesia, statice and roses in an assortment of yellow and purple hues.
There are few things quite as refreshing as the waft of a gentle breeze on a sweltering summer's day. Throw a cool mix and a comfy sunlounger into the mix and you're getting dangerously close to heaven on earth territory. The Summer Breeze bouquet is a celebration of all things summer and floral with its colourful mix of fresh germinis, chrysanthemums, gerberas, carnations and lilies. Anyone would be supremely luck to receive these flowers as a gift, including yourself if you decide to treat numero uno!