Father's Day Sunday on the 15th of June is the time that all Sons, daughters and grand children get to treat their fathers and grandfathers to presents and a special meal. It's just not just Mums and girlfriends who can be sent flowers - Men love flowers too, especially bouquets with more striking colors or unique designs.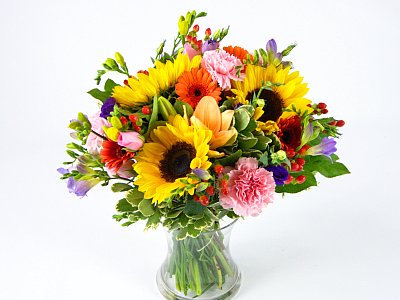 Sending flowers to your dad this Fathers Day is an ideal gift for him to spice up his office, either at work or home beside his laptop, or even out in the conservatory where he can sit back and watch TV on a lazy weekend. Tropical Flowers are a great choice as they don't have the same romantic connotations, and we have a great selection of more novel, creative flower bouquets which make a perfect nostalgic keepsake. Our flowers are arranged by hand by our team of florists, and are specially delivered by our couriers to prevent damage in transit.
The official flower for Father's Day is the Rose, and it is said that the founder of Father's Day, Ms Sonora Louise Smart Dodd, was the one who suggested using the rose as the official flower. Wearing a Rose on Father's Day is a custom followed in many different countries, and wearing a red rose symbolizes that your father is alive, and a white rose means that your father has passed away.