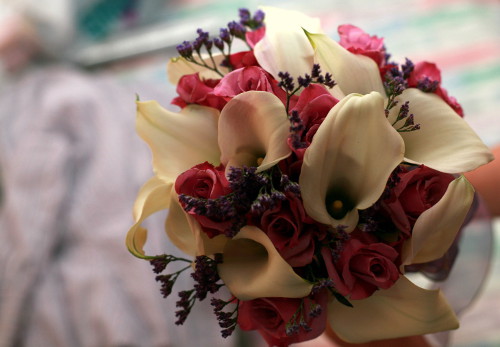 When deciding upon a bouquet of flowers, there is one subtle factor that you may not even consciously realise you take into consideration – the shape of the bouquet. The foremost considerations for most people when deciding upon a bouquet will be factors such as type of flower and colour. When it comes to flower arranging, the shape of the bouquet is an art in itself. In this article we're going to give a brief explanation of the various bouquet shapes available.
Nosegay
Featuring a compactly arranged bunch of flowers which are closely wrapped and cut to the same length, a nosegay quite often has more greenery compared to other types of bouquet.
Posy
A small round bouquet which is often adorned with decorative ribbons, the posy is great as a gift and is also often incorporated into wedding ceremonies.
Cascade
Not to be confused with our Cascade bouquet of the same name, a cascade bouquet in wedding flower lingo is an arrangement which features an overflowing assortment of flowers which usually narrow at the bottom. Very elegant.
Hand-Tied
Hand-tied bouquets tend to favour loosely tied blooms for a chic, casually elegant aesthetic. The beauty lies in the unforced simplicity.
Composite
Eye-catching and artful, a composite is created by arranging different buds or petals onto a single stem with wire.
Pageant
Featuring a similar overflowing quality as the cascade, the wind-pageant is a little bit more compact and has more of a wind-swept feel to it.
Round
A more carefully arranged take on the hand-tied bouquet, a round bouquet of flowers often features ribbon decoration incorporated into the design, lending the finished product an exquisite finishing touch.
Pompander
Popular in wedding ceremonies, a pompander consists of a ball shape covered in blooms and tied with a ribbon, making it ideal for flower girls.
We hope this guide has shed some light on the subject of bouquet shapes for you. If there's anything you feel we've missed off, do feel free to contact us to let us know!