Our Facebook competitions are always great fun. The number of entrants just seems to be going up and up, and people love commenting on the image of the bouquet which we ask them to share, explaining just what it is about our prize that makes them want to win. It's also a lovely opportunity for us here at Clare Florist to showcase one of our delightful bouquets to all of you out there!

So just like our last Twitter comp, when we posted up a little biography of the Sweet Candy bouquet, we thought we'd take today's Facebook comp as an opportunitty to show off the Boho Chic bouquet, our latest prize!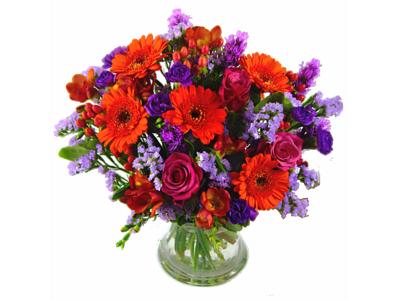 Isn't it lovely? The Boho Chic bouquet was inspired by the boho chic look which swept the fashion world a few years ago, and has been broguht back into the public eye recently by some folksy-inspired looks by the likes of Florence Welch of Florence and the Machine, and Natasha Khan of Bat for Lashes. We think this bouquet captures some of the style and casual grace of that look, with its vibrant selection of red and purple tones, gracefully arranged like the pleats of one of those lovely folksy skirts!

If you've fallen in love with the Boho Chic bouquet, then click right here to find this product on the Clare Florist site at a great low price.