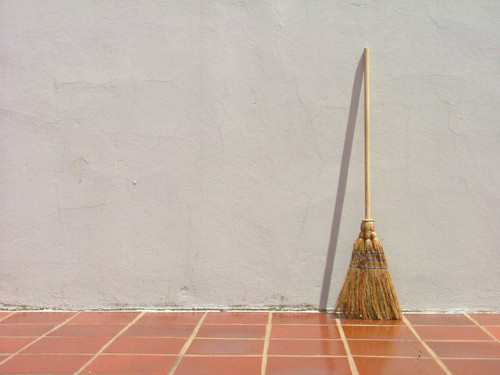 Spring is a time for rebirth and renewal, a time to dust off the cobwebs of the old and welcome the health and positivity of the new. Spring cleaning can take many forms, from physical to emotional. And these can influence and affect one another – there's no doubt that your environment can affect your mood and, to some extent, vice-versa.
Springtime is a great opportunity to do some spring cleaning in your life and the best place to start is with your home. Tidying up your surroundings and getting rid of your old junk that you've been hoarding (let's face it, that drawer full of dead batteries is unlikely to ever prove useful) will not only help you free up storage space, it will also help you to find clear headspace at the same time. Freedom from physical encumbrances will help you think more clearly and feel better.
If you're anything like me, you've probably got a wardrobe full of clothes, many of which you haven't worn in years. It's time to face the truth; you're unlikely to wear that old plaid shirt you bought five years ago ever again. You know what to do. eBay it, send it to the clothes recycling bank, donate it to your local charity shop. Just get rid of it and move on with your life already.
This can also be applied to your music collection, books, and any other residual clutter around your home. If you have physical possessions which you no longer have any need for or no longer have any fondness for, now is the time to un-encumber yourself! You'll feel much better for it, trust me.
Once you've cleared out the clutter, springtime is also a good opportunity to give your home a really good clean. If, like me, your idea of cleaning is shifting clutter around and having a quick, casual vacuum, now is the time to really roll up your sleeves and work some elbow grease. Again, the cathartic benefits of this cannot be underestimated. You will feel totally rejuvenated and inspired by your newly cleansed, tidy, uncluttered environment and you'll be surprised how quickly this positive change seeps into other aspects of your life.
If we may be so brash as to end this article with something of a slight plug, a great finishing touch to any spring-cleaning session is to place a bouquet of beautiful fresh spring flowers in a nice vase and have them on prominent display. Another great idea is to buy a houseplant – there's even research to indicate that having a plant in your home or work environment can lead to increased productivity and an enhanced mood.
Let us know in the comments section if you have any spring cleaning tips or let us know how you get on if you have a go at spring cleaning yourself. Good luck!