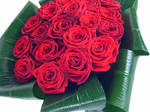 Today we commence a rather special offer for lovely red roses.
Clare Florist will deliver 20 (rather than the usual 12) high quality Red Roses in a compact and trendy bouquet, throughout the UK next day and all for only £39.99 inclusive of delivery.
This represents a saving of a whole £10 or 20% - yes that is Twenty percent - off the usual selling price.
Order now by using this link, before we change our minds!
Clare Florist, flowers for all occasions without any fuss.