Just see how wonderfully industrious we are in our Valentines Day preparations...

Well Valentine's day is nearly here. It has been so busy here at Clare Florist in preparation for the big Sunday. It's not too late to order your flower delivery for your loved one especially as we are delivering on the day it's self (available for a £8.95 surcharge). We have so many beautiful bouquets for you to choose from, there is sure to be one that you'd love to send or receive for that matter!

Let us not forget the other massive celebration that will be taking place on Sunday 14th Feb - It's the Chinese New Year and this year it is the year of the Tiger. We have some stunning "Tiger Lilies" available that are sure to delight and are quite fitting for the year honouring the Tiger!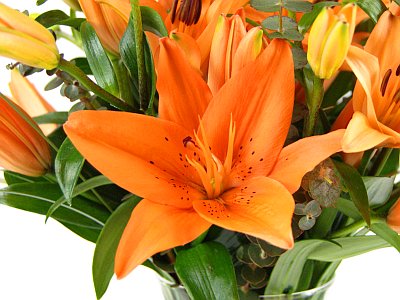 The Year of the tiger has some interesting associations and if you are a "tiger" here are a few of your attributes; Your motto is "I win", your season is Spring, fixed element is wood, your gemstone is diamond, colours are red and green, food is bread and poultry and your equivalent western star sign is Aquarius.
I'd like to take this opportunity to wish all our customers and fans and followers a Happy Valentines Day and of course a Happy Chinese New Year from all of the team here at Clare Florist.
For fantastic prize winning opportunities, fabulous flower information and magnificent offers and product news!