Well good morning folks,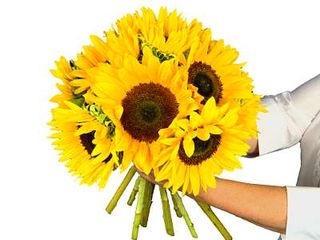 Flower Friday is upon us and it's a nice early start for the Clare Florist Team this morning, with a very busy weekend ahead of us. We have lot's of stunning bouquets to make up ready to go out for delivery today and Saturday.
There's nothing like a sensational "Sunflower Surprise" to take away those blues and induce those feelings of vibrant sunny happiness!
(That's just how I feel - So imagine sending this beautiful hand-tied arrangement to make a special person feel even more special?)
I have some fantastic news for you, which should assist in those happy feelings - How about winning a seasonal bouquet of finest quality fresh flowers every month for a year?
Well it's easy, all you have to do is; Follow us on twitter @ClareFlorist and retweet the following : Win flowers for a year with @ClareFlorist see : http://bit.ly/9z7AXt RT #ClareFlorist for your chance to win! (delivered in UK only)
Good Luck!
If you'd like to get in touch with us:


Or use the contact us page on the Clare Florist web site.