Hello flower friends of Clare Florist, it's that time again... Fun time Flower Friday!



Don't forget Clare Florist are offering 30% off our entire Summer flowers range and you will also receive FREE Thorntons Chocolates!
We are also continuing our second Tuesday of the month; pick a #randomfollower on twitter competition. All you have to do to be in with the chance of winning a FREE bouquet is to:
Then on Tuesday 13th July we will select a follower at random and send them a beautiful bouquet - please spread the word.
We also have a great new YouTube channel where you will be able to see some of our adverts, products and fun flower orientated video simply go to: http://www.youtube.com/user/ClareFlorist
This Sunday sees the Football World Cup Final taking place at the Soccer City Stadium in Johannesburg, South Africa. As we have wonderful Dutch connections; with many of our flower growers and distributors coming from Holland we would like to take this opportunity to wish the Netherlands all the best and hope they come up victorious and holders of the prestigious World Cup Trophy.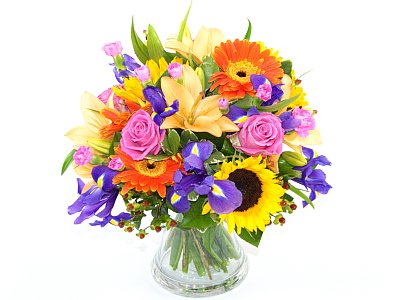 Our Best selling bouquet this week has been the: Burst of Summer Bouquet and with 30% off and FREE Thorntons chocolates it is fantastically good value!
Don't forget to become a Fan, or as it is now 'like' Clare Florist:

and to follow us on:

For fantastic prize winning opportunities, fabulous flower information and magnificent offers and product news!