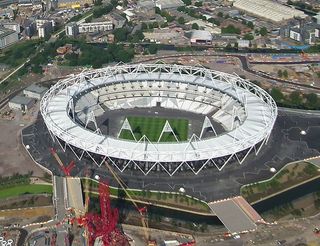 There's just nine days to go until the opening ceremony of the Olympic Games! And while we know that, in true, drizzly British fashion, there are plenty of you out there who are pretty sceptical about the whole affair, there's at least one bright spot shining through all the gloomy predictions about overstretched budgets, nonsensical corporate sponsorship rules and police-state security levels; the Opening Ceremony is usually pretty good fun.
And the fact that it's set to be full of flowers certainly helps to pique our interest here at Clare Florist. We love flowers, see. Some might say we're a teeny bit obsessed.
The flowers in question will be blooming all over the Olympic Park, a 250-acre urban park that's been created next to the site of the Olympic Stadium in Stratford, including areas of parkland, wetland, meadows and gardens. It's the biggest new urban park to be created in the UK for more than a century. The entire area had to be re-soiled for the park's creation.
And of course its role in the Olympic opening ceremony is going to be huge. In order to get the gardens looking spectacular, head gardener Des Smith, plant specialists Nigel Dunnett and James Hitchmough, and Hampton Court gold medallist / Chelsea silver medallist Sarah Price have had to 'play god' with flowers blooming times. Some plants require being held back, while others will be pushed to bloom early so that the opening ceremony features a huge extravaganza of extravagant flowers!
Hitchmough expresses that the journey wasn't always easy: "Several areas of building work on the site were running behind schedule, so we got access later than planned," he says, "and I did have a few weeks of sleepless nights. But we have now tested everything. We know it's all going to work."
So even if nothing else in the Olympics takes your fancy, it looks like the opening ceremony – and the Olympic Park – are guaranteed to be blooming spectacular!