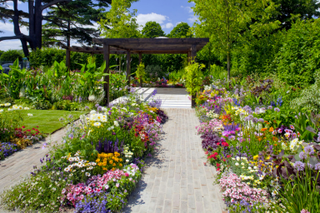 The Chelsea Flower show – which we at ClareFlorist spoke about in this blog a few weeks back – may have come and gone (as has its better half, the Chelsea Fringe), but it's not the only flower show in town. This week it's the turn of the Hampton Court Flower Show to strut its stuff under the banner of the RHS.
And while Chelsea bans under-fives outright, Hampton Court dos its utmost to make itself into a fun day out for the entire family. If you're planning on heading down with the kids, then next weekend – July 7th and 8th – is the money shot, as they will open a special 'Children's Zone' in the 'Palace area' offering a selection of activities for your kids to get involved with.
Among the attractions will be Olympic-themed (naturally, sigh) scarecrows in the shape of athletes, some human dancing flowers (!), a bumblearium, and even some tropical butterflies!
In addition, the 'Conceptual gardens' are a lot of fun too, with plenty of interactive exhibits to stroll around and interact with. Titles of conceptual gardens include 'Free Fall', '(Do Not Adjust Your Set)', 'A Very Victorian Fantasy', and the 'Russian Museum Garden'.
Tickets to the show cost £29 for all-day entry, and can be found on the internet at https://www.theticketfactory.com/rhs/online/