We at Clare Florist have teamed up again with a wonderful charity, Maggie's Cancer Caring Centres.
Why Maggie's? Put simply, they're a remarkable cause who we're extremely proud to support. Ever since being founded by breast cancer sufferer Maggie Keswick Jencks in 1993, this charity has sought to actively involve cancer patients in the process of their own recovery. Maggie herself was inspired by the opportunity to write an article for a medical journal on a patient's perspective on cancer, called A View From the Front Line. Maggie made it her mission to help cancer patients avoid becoming 'cancer victims', but instead to have access to the kind of psychological support, information and community support that would enable them to make the most of their lives, despite their illness.
Maggie died in 1995, but her powerful vision lived on, and the first Maggie's Centre was opened in Edinburgh in November 1996. Since then the charity bearing her name has gone on to provide support and help to cancer sufferers all over the UK. Landmark events of recent years include the opening of Maggie's Fife in 2006, a display of pictures taken at Maggie's centres at No.10 Downing Street in 2007, The Maggie's Centre in Charing Cross opening in 2008, and visits and support from influential figures such as Michelle Obama, Sarah Brown, Jon Snow and the Duchess of Cornwall.
Maggie's most recent announcement came just this week, with the unveiling of plans for two more centres; at the Forth Valley Hospital in Larbert, and the Velindre Cancer Centre in Cardiff.
Maggie's has a belief in the power of psychosocial support; creating a network of drop-in centres across the UK where anyone affected by this terrible disease can go to receive support, information, and care, and make contact with others who have undergone the same experience. Following from a strong belief in the power of a positive environment, many of the Maggie's Centres are stunning architectural spaces designed by award-winning architects, including Frank Gehry and Zaha Hadid. Maggie herself articulated the charity's philosophy beautifully: "Above all, what matters is not to lose the joy of living in the fear of dying"
So we're delighted to be able to offer some small measure of support to this most noble of causes.
Our latest collaboration with Maggie's here at Clare Florist is to offer a brand new bouquet – Maggie's Flowers. This new addition to our range is a lovely, tasteful bouquet; and every time one is purchased, 10% of the profits go straight to Maggie's.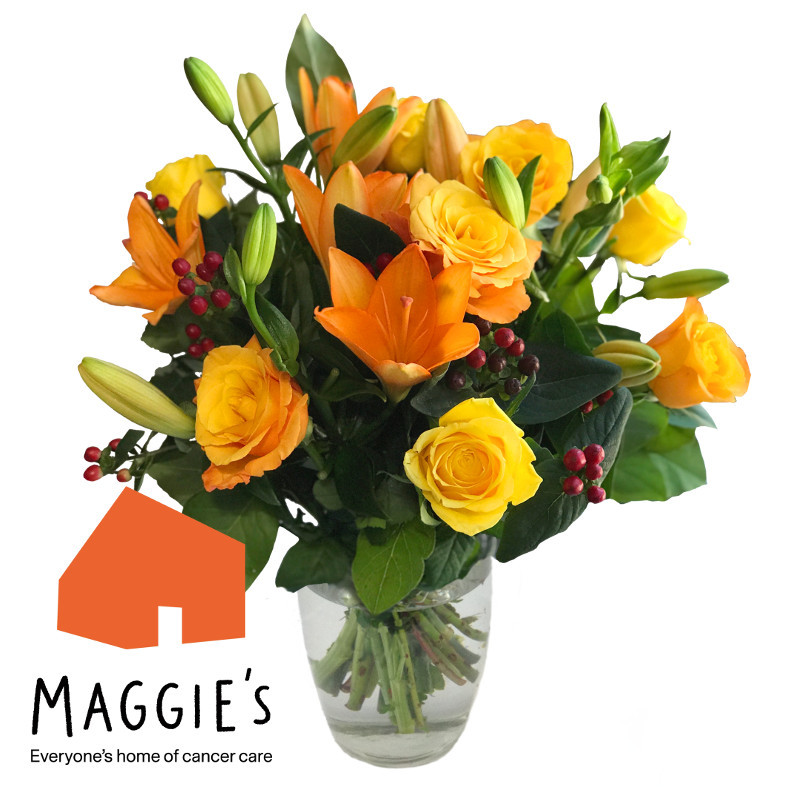 [2021 Update - We have updated our Maggies Flower bouquet and have updated the links accordingly]