No doubt plenty of you out there are getting caught up in the fun and excitement of this year's London Olympics. Others of you may be considerably more cynical about the whole thing. Most of you, being British, are probably perfectly happy to do both of these things simultaneously.
We've had some crazy events already this year. There's been the ludicrous cock-up on the very first day, when a South Korean flag was displayed next to a North Korean football team on the big screens. To follow this one up, there was a Welsh player described as English in a football programme, and Ukraine was referred to as a 'region of Russia' on the official Olympics website. For the record, Ukraine certainly is not a region of Russia. Then there was all the fuss about the opening ceremony, where Danny Boyle's excellent show was accused by a crusty Tory MP of being left-wing propaganda, simply because it celebrated the NHS.
And all that is before the athletes even got started! But while there have been plenty of diversions to keep us entertained, from world records to doping allegations, match fixing devilry to feats of endurance and agility, this Olympics will have a long way to go to match some of the nutty events of Olympics past…let's have a look at just a few of the silliest events from Olympics of the past, and ask whether this year's competition, however great it is, can ever hope to be half as weird…?
1) Eric the Eel
One of the most famous Olympic oddities, Eric 'the eel' Moussambani had an extraordinary route to victory in his Olympic heat. Eric arrived to complete for Equatorial Guinea at the Sydney Olympics in 2000. Due to the size and poverty of Equatorial Guinea, Eric's preparations were less than superb; he'd never even trained in a full-sized pool before. And, frankly, he wasn't even much of a swimmer.
But he was remarkably lucky. There were only three swimmers in Eric's heat, and amazingly, both of them managed to false-start the race, leading to their disqualification. Now all Eric had to do to win the heat was to swim the 100 metres needed. He made it: just. After an agonising belly-flop, and a swim so slow that lifeguards were beginning to move into position in case Eric began to drown, he finally clawed his way to victory, making him almost certainly the worst competitor to win an Olympic heat.

2) Fighting in the Boxing Ring. But not the right sort.
In 1988, in South Korea, the host nation got a little bit too hands-on in the boxing ring. When their boxer Byun-Jong Il lost some points for using his head (pro tip: not on), the Koreans invaded the boxing ring. Coaches, other boxers, and even the security guards joined in a ridiculous assault on the officials, several of whom were injured before things were finally calmed down.
3) The Fake Marathon
In 1972, believing the Olympics needed 'cheering up', a 22-year old student called Norbert Sudhaus decided to do just this by the very bizarre method of pretending to win the marathon. Sudhaus simply put on a vest, a number and some shorts, and joined the race right before the end, becoming the first runner to enter the stadium, to the cheers of the crowd. He made it almost the whole way around before security guards finally twigged what was happening, and tackled him to the ground.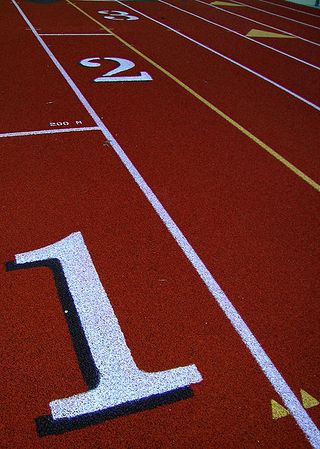 By Elaron [CC-BY-2.0 (http://creativecommons.org/licenses/by/2.0)], via Wikimedia Commons

Could this year's London games produce anything half so entertaining? We can but hope…