With its small billowy flowers, the baby's breath flower adds a light, comforting feel to your gardens. The flower is best known for its draping form over outdoor baskets, and can grow anywhere from 8 inches to 2 feet tall when out in the wild. Baby's Breath flowers are known for being drought tolerant, meaning that they last longer when there is a lack of water, and they are one of the easier flowers to grow and maintain.
The real name of baby's breath is Gypsophila, and this flower is often seen in a wide range of different bouquets to fill out the bouquet and to compliment the rest of the flowers. They flowers can be easily separated to create a more balanced look in your bouquet, and they are often seen in more romantic, traditional floral arrangements such as with Roses, Carnations and Alstroemeria.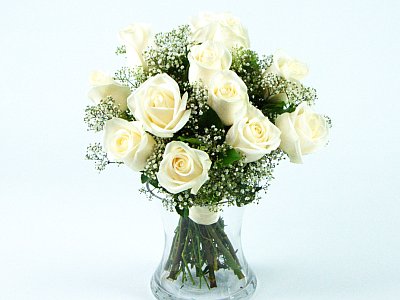 Here at ClareFlorist we have a selection of flowers featuring Gypsophila within them. Our Dozen White Roses bouquet is a very calming, beautiful bouquet that symbolizes purity and innocence.
Made with a rich blend of 12 white roses combined with white Gypsophila this lovely bouquet has an elegant, simple design that has been hand arranged by our team of florists.
Another bouquet containing Baby's Breath flowers is our Freeisa and Lily Bouquet which is a bright, breezy flower collection that can be used all year round. This bouquet contains a mixture of fragrant freesia, lilies and carnations and yellow Roses, creating a striking display.
All of our flowers are available with next day delivery included as standard to be with you as soon as possible.