The Gerbera Plant goes by many names including the Hilton Daisy, the African Daisy or the Transvaal Daisy, and is a beautiful large faced plant related to the Sunflower family. Gerberas help to attract birds, bees butterflies and for pollination and there are currently over 30 different types of species growing from South American to Asia.
The Gerbera plant is most commonly used as a decorative flower around the home and garden, and they grow in a range of different bright vibrant colours including whites, yellows, oranges, pinks and reds. There have been been cases of the Gerbera having petals of different colours for a dazzling display. Generally a Gerbera will flower for around six months, and the average length is around 18 inches, however sometimes they can reach heights of over 30 inches.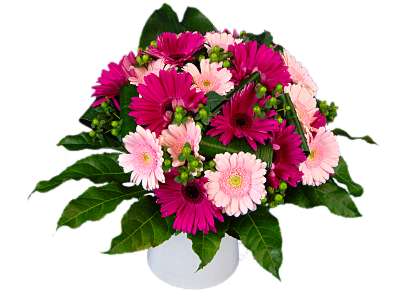 We here at Clare Florist we stock a range of Gerbera bouquets to order online, and here are some of our popular Gerbera flowers from our selection. Our Gerbera Gem Bouquet is a dazzling, eye catching bouquet that would make a stunning Centre piece on your table.
This bouquet contains a mixture of cerise and pink germinis, hypericum upon green foliage which has been hand arranged and tied by our florists for you to place in your vase. Perfect for arranging for delivery to a friend or as a gift for yourself, our Gerbera Gem Bouquet will be an excellent touch to your surroundings.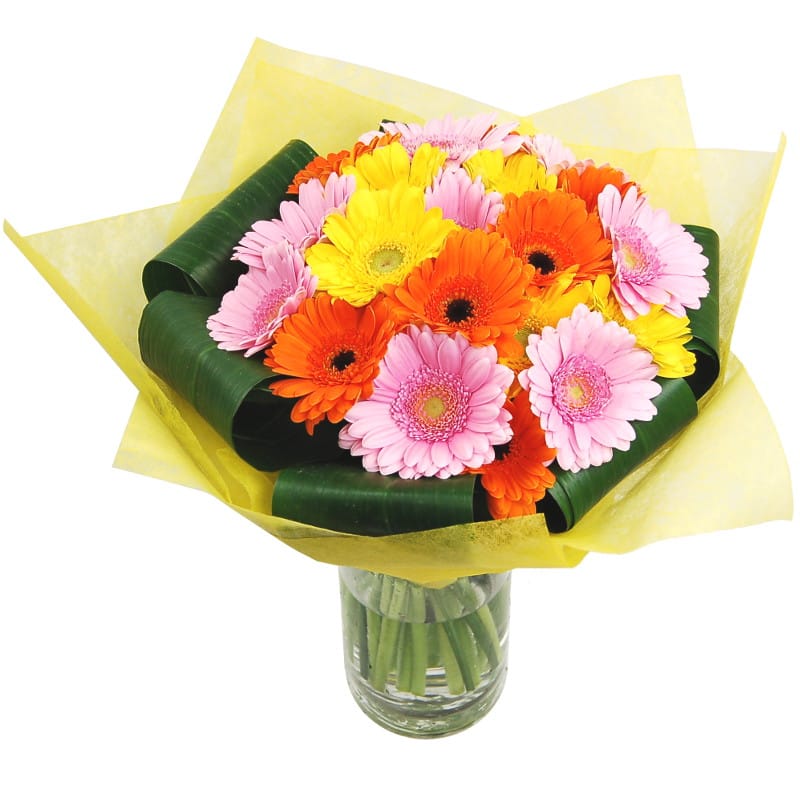 Another bouquet from our range is our Gerbera Sunshine arrangement, made from a mixture of colourful gerbera plants.
This large bouquet has a beautiful green leaf backdrop and the large flowers add a warm, welcoming tone to your home.
Interesting Facts about Gerberas
Gerberas are often used as an ornamental plants around the outside of houses when there are Deers around, as the deers will not eat the plant!
Named after a 19th-century German naturalist Traugott Gerber
They are perfect flowers for adding colour to your room
They are sometimes known as Gerbera Daisies