The leaves are turning wonderful shades of brown and orange, the nights are beginning to draw in and there's a refreshing coolness in the air. Summer is officially winding down for another year, which is disappointing in some ways, sure, but there is a rich beauty in the season of Autumn as well. If you're lucky enough to live in a leafy suburb you will surely appreciate the glorious spectacle of an autumn sunset with sunlight filtering through branches arrayed with leaves which possess the most sublime autumnal hues. The only possibly annoying aspect is raking leaves if you have trees in your garden. If you live in the city, get down to your local park to take in the beautiful sights of the beginning of autumn.
Inspired by the shades of the season, our Autumn Glow Bouquet is the perfect way to welcome in Autumn. Showcasing an exquisite mixture of red, yellow and orange colours, this seasonal flower arrangement features gerberas and lilies amidst other seasonal autumn flowers. As well as providing a lovely way to decorate your own home, the Autumn Glow Bouquet is perfect as a gift for friends, family or loved ones. Free delivery is included five days a week or you can also arrange Saturday or Sunday delivery for a small surcharge. Your flowers come packaged in our signature Clare Florist flower delivery box which has been specially designed to ensure your bouquet reaches you in utterly immaculate condition.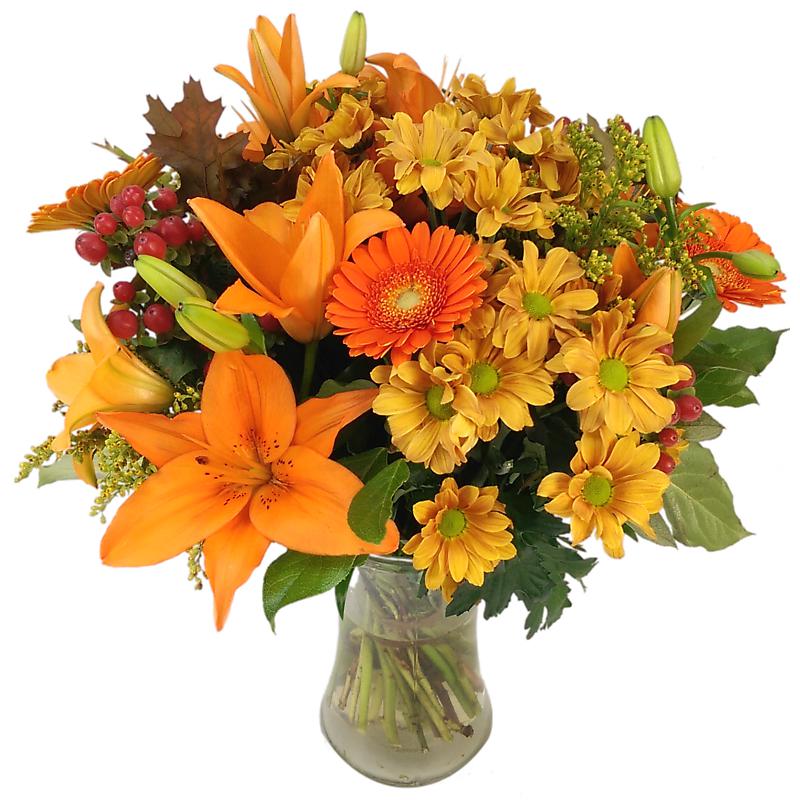 To celebrate the start of Autumn we're currently offering £5 off every order of the Autumn Glow Bouquet which means you get the bouquet with delivery included for a mere £29.99. Keep your eyes peeled on ClareFlorist.co.uk for more seasonal Autumn bouquets in the coming months as well!