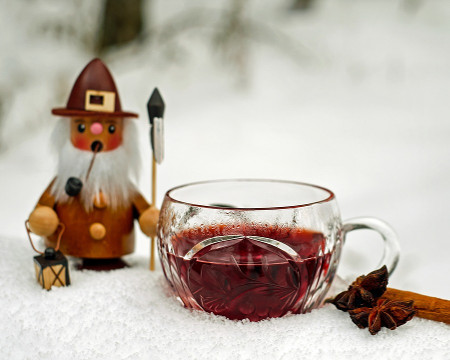 Mulled Wine: Its History and How to Make One
Mulled wine is a traditional drink during winter but is most especially enjoyed around Christmas. The beverage is a mix of various mulling spices and red wine but there are variations in different parts of the world.
In Britain, for example, mulled cider or mulled ale may be used.
If you look up mulled wine recipe online, you will find different combinations as well.
Steeped in tradition and culture, mulled wine is one of those beverages that have a history to tell and an answer to the question "why do we drink mulled wine".
Origins of Mulled Wine
It was created by the Romans in the second century who would heat wine as a way to defend their bodies against the cold temperatures of winter. Taking their love for the drink with them as they conquered much of Europe, the idea of mulled wine spread across the empire.
When trading started, it was also passed from one region to another. But it wasn't until the middle ages that its popularity grew and continued to grow past the era.
Combined with the belief that spices mixed with wine will help promote health and prevent sickness, mulled wine took on a new version. It wasn't long before herbs and flowers were also used as natural sweeteners.
The popularity of mulled wine, however, faded across most of Europe as time went by, with the exception of Sweden where Claret and Lutendrank were made. Both are variations of mulled wine.
The collective name glögg for mulled wine first came out in 1609, and it was in the 1890s when it was associated with Christmas. The long-forgotten beverage took on a new festive light and continues to be a Christmas tradition.
How to Make Mulled Wine
In a 1390 mediaeval English cookery book The Forme of Cury, a mulled wine recipe uses of red wine and sugar with ground spices of cinnamon, cloves, long pepper, ginger, galangal, nutmeg, cardamom, marjoram and grains of paradise (spykenard de Spayn) or rosemary.
In Britain, the recipe will depend on whether it is based on traditional culture or contemporary.
Making the former may be easy since the recipe only says sugar, spice, and 1 large cupful of water for every pint of wine, but getting the taste right can be a bit of a challenge.
The recipe for making mulled wine in contemporary culture, on the other hand, is much simpler since the ingredients are easy to find. These include cinnamon, cloves, cardamom, ginger, fennel seed, lemon, and orange. These are then added to red wine.
Some variations include the use of ginger wine or brandy mixed with a tea bag of spices.
Ingredients
· 1 bottle red wine
· 60g/2oz demerara sugar
· 1 cinnamon stick
· 1 orange, halved
· 1 dried bay leaf
· 60ml/2fl oz sloe or damson gin (optional)
· Grated nutmeg
Directions for Cooking
1. Pour the wine in your saucepan with the orange, sugar, bayleaf and the spices.
2. Heat the wine until the sugar has all dissolved. Taste the wine and add extra sugar if you want it sweeter
3. Turn off the heat and pour and stir in the sloe or damson gin if you are using it.
4. Strain your wine into a heatproof glass or mug ready to serve.
To complete the festive feel and atmosphere, order flowers for Christmas from Clare Florist. We carry a wide range of flowers and floral arrangements to create the perfect mood for drinking mulled wine. Order now for same day delivery.