Ordering flowers online with Clare Florist couldn't be easier. We've broken the process down into a simple infographic, read on for more details on ordering a fresh bouquet of flowers for free next day delivery with Clare Florist.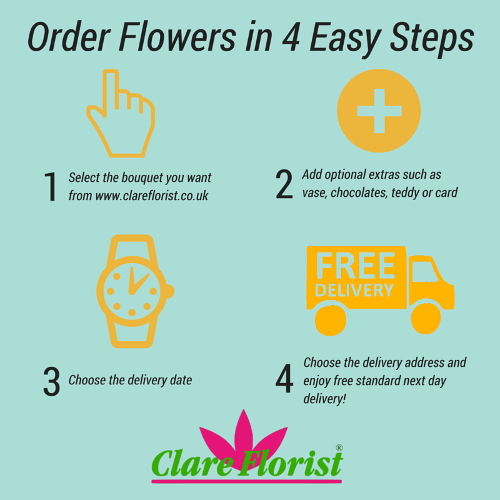 1. Choose your bouquet
At Clare Florist we have an enormous selection to choose from so we've made things slightly simpler by breaking the catalogue down into different categories so you can quickly find the perfect bouquet. You can shop by occasion, by type of flower or by colour. If you aren't sure specifically what you're after, why not take a look at our best sellers or special offers for ideas and inspirations. A lot of our bouquets are available as deluxe versions which enables you to add up to 50 percent more flowers for as little as £3.50, depending on the bouquet.
2. Optional Extras
We have an assortment of extras available to add to any order - you can order as little or as many as you want! Depending on the arrangement, some of the extras which might be available include a stylish glass vase, a box of Thornton's chocolates, a large teddy bear and a handwritten gift card.
3. Choose the Date
Free standard next day delivery is available on any order but it's entirely up to you when you schedule delivery for. For example, if you're planning ahead there's nothing to stop you from scheduling in a delivery in the future. Saturday and Sunday delivery is also available for a small surcharge, ensuring your flowers will arrive when you need them to.
4. Choose the Delivery Address
The final step is to let us know where you want to have your flowers sent to. You can have them sent directly to the recipient or perhaps you are ordering a bouquet for yourself to be delivered to your own home address. Your flowers will be dispatched via courier in our famously sturdy flower delivery box to ensure that your order arrives in absolutely immaculate condition!
And that's all there is to it! After carrying out these four simple steps you can sit back and relax, safe in the knowledge that an expertly designed fresh arrangement of blooms is en route.