As Spring advances ever nearer, we're delighted to announce the addition of three new plant baskets to our plants range. Each of these new additions consists of a cute wicker style basket which is filled to the brim with vibrantly eye-catching flowering plants. Whether you are seeking a unique and visually arresting gift or you are looking for a way to enliven the surroundings in your own home or office environment, one of these delightful plant baskets offers an excellent solution.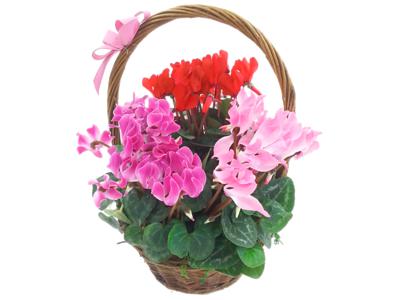 First up we have the aptly named Good Cheer Cyclamen Plant Basket. Filled with red and pink flowering cyclamen plants, this basket will create a pretty focal point within any setting.
The Good Cheer Basket is accented with an adorable pink ribbon, the perfect finishing touch. Don't forget that there is the option to include luxury Thornton's chocolates, a cuddly teddy bear and a handwritten card with your order.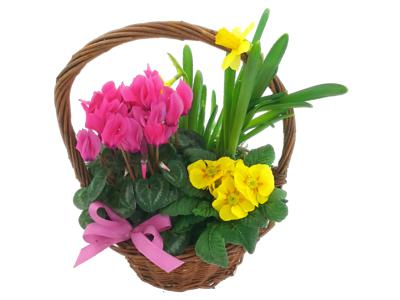 Next, ladies and gentlemen, we're proud to introduce our Colours of Spring Flowering Plant Basket. With a sweet selection of mini cyclamen, tete-a-tete and primula plants, this lovely plant basket will win admiration and attention wherever it goes.
These colourfully flowering plants have been carefully arranged in their own cute wicker style basket by our expert florists. There's even a pink ribbon attached to the basket - what's not to love?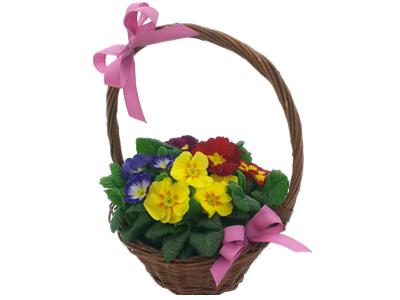 Last, but by no means at all least, we're thrilled to present the Pretty Primula Plant Basket. Showcasing a selection of primula plants which boast gorgeous red, yellow and blue flowers, the Pretty Primula Plant Basket offers a great way to celebrate the advent of springtime.
With the days growing longer and the weather becoming milder, the Pretty Primula Plant perfectly encapsulates the good cheer and optimism of the spring season.
So which of our new wicker style flowering plant baskets is your favourite?