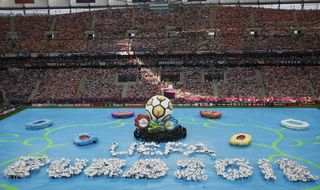 Football and flowers aren't the most natural friends. Many a sweetly-struck shot in the back garden has taken the heads off mum's prized tulips, and many a spiky rosebush has ended an innocent football's career.
But last week, these oldest of foes made some kind of peace, in the name of unity, togetherness and kicking a round lump of leather really hard between a couple of sticks. The Euro 2012 championships begun in Poland and Ukraine last Friday, and organisers UEFA served up an amazing floral treat for their spectacular opening ceremony.
The ceremony took place in the National Stadium in Warsaw, Poland, and featured a whole raft of entertainers, including Hungarian classical pianist Adam Gyorgy, playing a piece by Polish composer Frederic Chopin. But the best part for all of us flower freaks was undoubtedly the floral displays, inspired by the gorgeous Polish art of paper-cutting, Wycinanki.
Flowers are working their magic elsewhere in the tournament, too. The Spivoch Pole is holding a special flower show inspired by the tournament, and in Kiev a floral clock has ben created to mark the tournament. The clock is in the colours of the two host nations of the tournament, and features nice flowery depictions of the two mascots, Slavek and Slavko.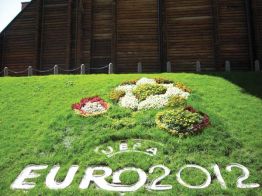 We're not quite sure whether all of this will lead to football fans discovering a new love for flowers and all rushing out to buy aromatic freesia bouquets, but we can dream. At the very least, it's nice to see the timeless beauty of flowers is acknowledged even in the macho world of football.