In the middle of the ClareFlorist morning research routine (sit around googling 'flowers' until something interesting comes up) today, we stumbled on news of a really remarkable project happening all the way across the world in Singapore.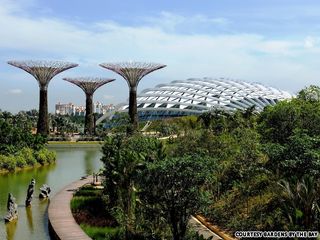 Marina Bay, Singapore, is not best known as a hotbed of horticulture. It bills itself as the 'most spectacular hotel in Singapore', and is best known for its Casino, convention centre, and something called the 'SkyPark', which basically seems to be a very high roof which happens to have a swimming pool set into it.
But now, Marina Bay has poured some of their obviously ridiculous wealth into creating a botanical spectacular known as 'Gardens by the Bay'. The entire project will cost o less than one billion Singapore dollars – and yes, since you ask, we have researched (googled) how much that is in old money. It's an astonishing five hundred and four million pounds.
The gardens were first announced by the Singapore prime minister in 2005. The project is being developed in phases; the most recent, Bay South, opens today.
The gardens themselves – Bay South, Bay East and Bay Central – are three enormous waterfront gardens with some outrageous features. Bay South has 18 man-made trees the size of skyscrapers linked together by aerial walkways. These amazing 'trees', 50m high, are cloaked in tropical climbing flowers and will be lit at night.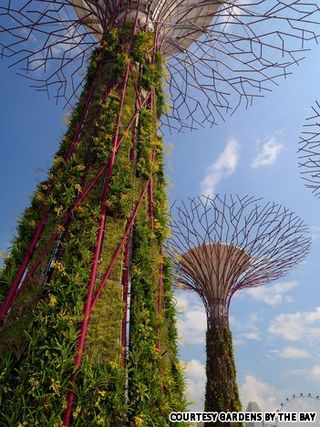 In addition, two glass 'biome' domes called 'Cloud Forest' and 'Flower Dome', which will mimic an array of different climates, to house exotic and rare plants from all over the world.
Check out these amazing pictures from gardens by the Bay – and start planning that trip to Singapore!