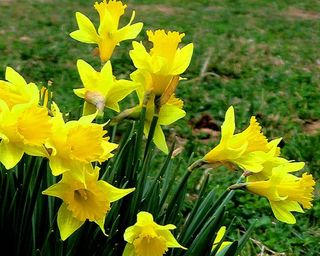 The Welsh national flower; the daffodil
The National Botanic Garden of Wales have notched up an extraordinary achievement: thanks to their efforts, Wales has just become the first country in the whole world to log the DNA of all the native flowering plants in the country.
This amazing effort mans that we're well on the way to replicating the feat for the whole of Britain, too, as around 75% of Britain's flowering plants can be found in Wales.
The next stage of the project is to begin logging the DNA of non-native plants; i.e., plants which humans have brought into the country.
But what does this mean? It means that DNA sequences unique to every native flowering plant in Wales have been recorded. Now that all of this DNA is on file, scientists can use this to identify a plant from event the smallest fragment of seed, roots or wood – even from pollen grains.
The project, called the Barcode Wales project, was led by Dr Natasha de Vere. She said: "Wales is now in the unique position of being able to identify plant species from materials which in the past would have been incredibly difficult or impossible.
"Through the Barcode Wales project, we have created a powerful platform for a broad range of research from biodiversity conservation to human health."
In the spirit of co-operation and advancing the commonality of mankind's knowledge, the Welsh project results have been uploaded to the 'Barcode of Life Database', so that it can be used by plant researchers around the world.