Here at Clare Florist we get orders from all corners of the UK and one of our popular destinations for our flower deliveries is Woolton in Liverpool. Woolton is where John Lennon spent most of his Childhood, and where he met Paul and George. Not only this, it is also home to the famous Strawberry Field which was inspiration for the Beatles hit song.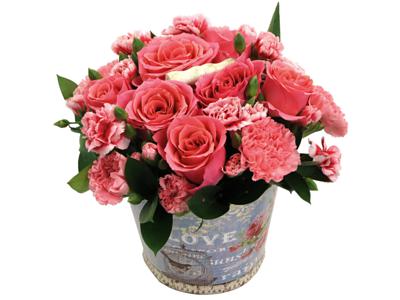 As a tribute to this area and to The Beatles, we have created a special arrangement of flowers which we have aptly called the Strawberry Fields as it captures the charm and vintage feel of the 1960's when Beatlemania was sweeping the nature.
This charming arrangement of Pink Roses and Spray carnations is surrounded by green leaves to accent the flowers, and is contained within a galvanized mini tin bucket. This flower bucket is an ideal gift for your partner, and helps create a soothing relaxed feeling to brighten up your home.
Whether you are looking to order this as a gift for your family and friends, or simply as a treat for yourself, our Strawberry Fields flower bucket will be an eye catching display for placing about the home.