A few weeks ago, we reported here on the Clare Florist blog on a flower seller who'd run foul of his local council.
John Kidd, of Grantham, used to sell flowers from a stall set up in his driveway. Mr Kidd, a former construction worker who was forced to retire from his original trade by injury, was punished by the South Kesteven District Council for operating a business without planning permission.
At the time, the council said that they had looked into alternative options for Mr Kidd, including offering him a flower stall at their weekly market. Mr Kidd responded that his small-scale business would not cover the costs of leasing a stall at the market.
But now, it is not the council, but a generous local shopping precinct who have come to this flower entrepreneur's rescue, and given him his very own shop.
Hilary Pearce, manager of Grantham's George Shopping Centre, has helped Mr Kidd to open up his own flower shop in the centre, named Buster's Blooms. She said, "We have got to get Grantham High Street thriving again - and we count ourselves as the High Street - because times are tough.
"So, hopefully, we can help by doing our bit and supporting Mr Kidd in his new venture.
John Kidd, meanwhile, was enthusiastic about his new venture, and thanked Mrs Pearce for her help: "A lot of regulars have already turned up and it has all been positive. They have all wished me luck and I would like to thank those people who supported me in Harrowby Road for their loyalty."
"I can't afford to let this fail. This is my livelihood for the foreeable future but I do think the business will take off."
"Hilary has really pulled out all of the stops and done us proud."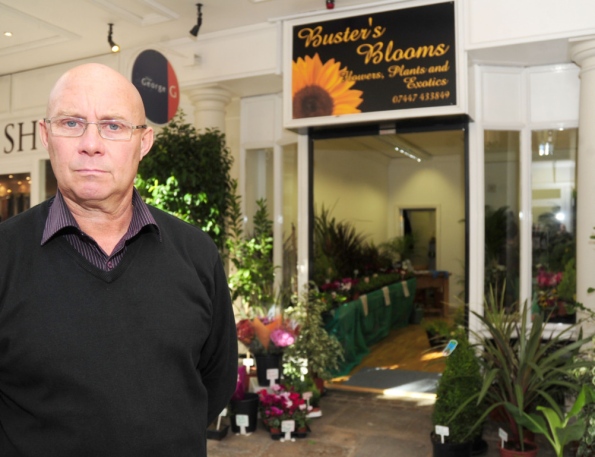 Image: Grantham Journal.