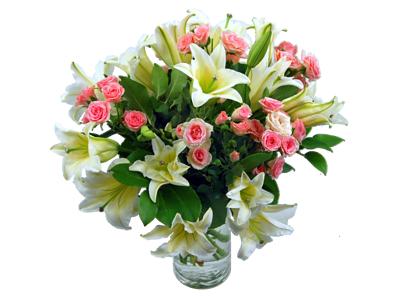 Second Tuesday of the month, you know what that means!
This month, our prize on our Twitter Competition is the absolutely lush 'Sweet Candy' bouquet. We gave this bunch of flowers its lip-smacking name because of the swirling pink and white colours, which made us think of traditional hard-boiled candy...like a candy cane, or a campino!
But though you can't eat the Sweet Candy bouquet, it's certainly a treat! We put it together using crisp white lilies, soft pink spray roses ,and lush green foliage as a backdrop to really make those candycane colours stand out. If you want to enter this competition, all you need to do is head over to our Twitter feed today or tomorrow morning -- because we don't like to keep anyone waiting, we'll be drawing this competition's winner at 11.30 AM tomorrow morning. But thanks to the magic of the interrnet, we will be accepting entries right up until the last few seconds before we randomly select our winner.
To enter, you just have to follow our Twitter feed @ClareFlorist, and re-tweet this little hashtag: #randomfollower.
Best of luck!