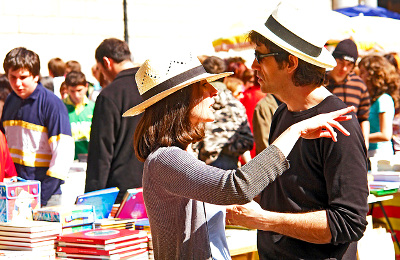 Trust the Spanish to have their own unique and romantic take on World Book Day. This Sunday, the 23rd of April, sees the celebration of Sant Jordi, a festivity which involves couples exchanging gifts - traditionally a book for the male and a rose for the female. All across the streets of Barcelona you will find book and flower stalls from which locals will purchase gifts for their other halves.
The festival is named after the patron saint of Catalonia. There are also different variations on the festival in other regions of Spain which are based on the legend of St George and the dragon. This fable involves Saint George killing a dragon in order to save a princess and is commemorated with parades and re-enactments.
If you're going to be in Barcelona for the Sant Jordi festival, a great place to take it all in is La Rambla, a long and spacious boulevard that's always bustling. It's the ideal place to soak up the atmosphere and buy a gift for your special someone. If you want to send someone in the UK a bouquet of flowers to honour Sant Jordi, be sure to check out our collection of romantic flower bouquets with which you can include a personalised gift card.