Halloween... the season for all things spooky and the perfect excuse to dress up and decorate your home. Whether you have already stocked up on pumpkins, purchased a variety of ghostly Halloween table decorations or are looking for more fancy dress ideas, we here at Clare Florist have managed to source a great selection of Halloween inspired floral decorations for your room.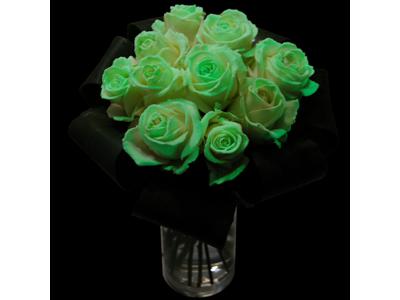 If you have decided to dress up as Poison Ivy this Halloween, or simply looking for an unusual Halloween prop, check out our elegant Glow in the Dark Roses These real fresh roses during the day have a sublime White finish however come the witching hour the petals emit a soft green glow.
Created by Doctor Doom himself (not really) these eerie roses have an applied spray that causes the rose to give off an enchanting glow, perfect for displaying during the evening.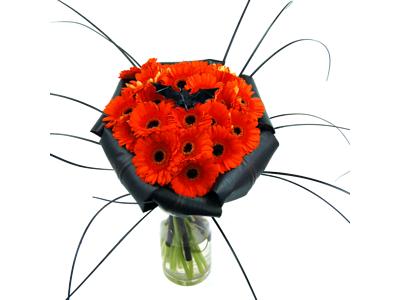 Imagine a Jack O'Lantern sitting upon Draculas dark velvet cape, and you come close to our Spooky Gerbera Halloween Flowers. These eye catching flowers feature 20 Orange Gerberas with a gorgeous dark backdrop for a stunning visual contrast, and the warm orange tones add a distinctive flavour to your halloween celebrations this year..

Our Spooky Halloween Flowers will attract the eye of any trick-or-treater, perfect for placing beside any snacks or goody bags. We are also including a novelty Halloween toy with each order, such as a bat for hanging around the flowers for that authentic Transylvania appeal!