"Winter is an etching, spring a watercolor, summer an oil painting and autumn a mosaic of them all." - Stanley Horowitz
Autumn. The season of warm jumpers, pumpkin spice lattes, falling leaves, and orange foliage. It's no secret that we here at Clare Florist are very much in love with the season of Autumn, and one of our favourite things about the season to add to the aforementioned list is crisp, fresh autumn flowers.
When creating an autumn bouquet of flowers, the main thing is to get the colours right. Working with a palate of earthy hues such as oranges and browns will get you off to a good start. You can also throw in some red as a nod to the blazing colours of New England in the fall.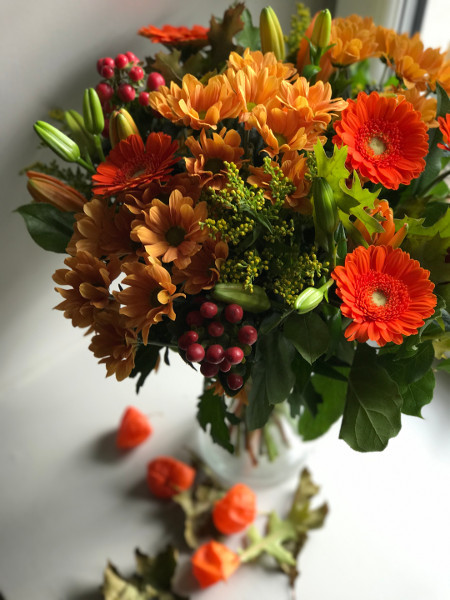 Autumn flowers will make for an inspired gift when it comes to birthdays which fall in October or November. They also make a great gift for you, in case you want to treat yourself to something to brighten up your home with warm autumnal tones.
The pictured Autumn Glow Bouquet is a great example of the wonderful things our team of expert florists can do when they're infused with seasonal inspiration. Created using fresh lilies, chrysanthemums, solidaster, germini and hypericum in a blazing palate of orange, yellow and red, this resplendent bouquet perfectly captures the feeling of an autumn sunset over a leaf-strewn lawn.