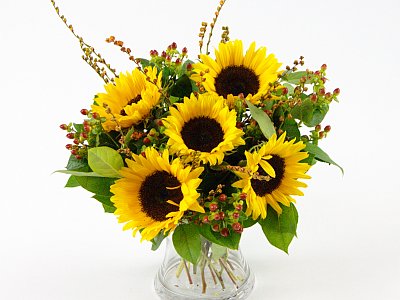 Of all the flowers we most associate with the spring and summer months, the broad-faced cheerful sunflower has to be one of the most popular. There's something about sunflowers that just instantly evoke warm thoughts of mild weather, sunshine, long days and carefree living!
Summer's just around the corner and we cannot deny that we are becoming a tad excited by this prospect. To share some of our good cheer, we are offering a generous 24% discount on our Sunflower Surprise bouquet which is a saving of £8.49 on the regular price. This means that for just £27 you can have the Sunflower Surprise delivered straight to your door (FREE standard next working day delivery is included in the price!)
Created with no less than seven of the freshest premium grade sunflowers, the Sunflower Surprise is sure to instantly capture the attention of everyone in the room. To make this bouquet even more eye-catching and attractive we then add in some decorative red hypericum berries, a marvellous finishing touch.
This vivid and versatile bouquet is ideal if you are seeking an extra special gift for a May or June birthday. The Sunflower Surprise is also just the thing if you want to treat yourself to some flowers to brighten up your own surroundings.