In this town we call home,
Everybody hail to the pumpkin song!
It's not Hallowe'en yet, but it's certainly not too early to start planning your celebrations. Of course, with Hallowe'en, there's only one real rule: the spookier the better!
Here on the CF blog we're bgig fans of all kinds of decoration and fancy dress -- not to mention all things spooky -- so keep checking back to the blog in the run-up to Hallowe'en, as we feature great costume ideas and decoration plans. And we'd be missing a trick if we didn't mention our fab new Spooky Hallowe'en Bouquet, available here for just £35.99, including delivery and fun little novelty item thing :)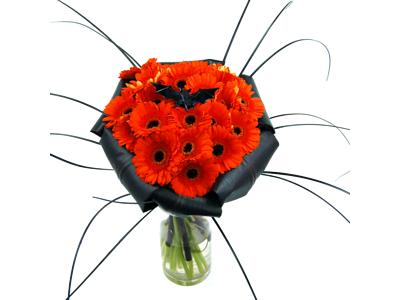 But first, let's focus on the most important Hallowe'en decoration of all. The Jack O'Lantern. It has to be said, a carved-up pumpkin with a big toothy smile and a candle inside will ALWAYS look amazing, no matter what. They're the quintessential image of Hallowe'en.
But there's amazing, and then there's AMAZING. And what we want to do is give you some inspiration to make your Hallowe'en decor as incredible as you possibly can.
And these images here, sourced from this website, are definitely AMAZING. Think you can do anything as cool?