Why It's Good to Send Flowers to Welcome a New Baby
The arrival of a newborn child is a cause for celebration. When one of your good friends is welcoming the latest addition to their family, sending them flowers for new babies is one of the simplest yet most thoughtful of gestures. How can that be so?
· It is a hassle-free process. Choosing new baby flowers to send to your friend who just had a child isn't a process that will have you tearing your hair out. Thanks to the internet, it is now so simple to place an order for baby flowers and have them delivered to where your friend is having their child.
· It can be sent hours or days after the child is born. Even in this fast-paced world, there are times when news doesn't travel fast. This doesn't mean you've forgotten your friend's very special day, it's just that news didn't get to you in time. Plus, congratulating the happy couple a few days after the birth of their child isn't such a horrible mistake. Some might find it ideal to send flowers a couple of hours or within the day the child is born, but there's nothing wrong with being a few days late either. It's the thought that counts.
· It makes the parents feel loved and treasured. Delivering a baby isn't a simple process. It may take hours for some mothers to get a baby out. Not only that, some mothers will feel other symptoms as well. While finally pushing out a healthy baby is reward for what they've gone through for nine months plus the number of hours of labour, seeing colourful gifts in the form of flowers from friends, family and other well-wishers brings about another level of joy and happiness.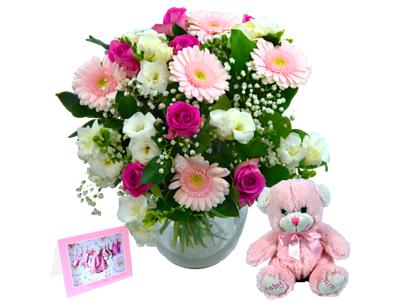 Friends or family who live in the same city as the new parents can easily go to the hospital to pay a visit. As such, they can bring along a bouquet of flowers and other items like stuffed animals along with them. But there are times when you can't visit as well, maybe you got stuck at work or had another emergency to attend to. In these scenarios, you can simply go online to order a newborn bouquet for the happy parents.
Sometimes, friends and family are far away from each other – they might live in different states or they might live oceans apart. This is another scenario where sending flowers is a good idea to welcome a child into the family. An order can be send with just a few clicks.
Welcoming a new baby is a special moment in the lives of parents. After nine months of pregnancy, it finally feels good to see the person who was carried around in the womb. Sending them a bouquet of flowers as a way of congratulating them in bringing a new person into the world adds colour into their lives. While choosing the right floral arrangement might be daunting, always remember that it's the thought that counts.
Shop our full range of new baby flowers now.