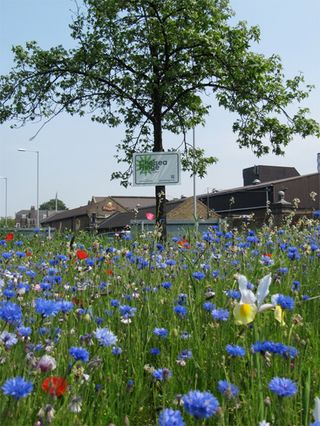 The other week here on the CF blog, we reported on a few people who were less than happy with the opulence and elitism of the Chelsea Flower Show. Guardian columnist John Vidal thought that the show was out-of-date 'nature for the 1%', while some lovely blokes in costume as giant bees thought it used too many pesticides (and was a great excuse to dress up as giant bees).
But now the alternative to Chelsea – the Chelsea Fringe – has taken place too, giving us all a more democratic, grass-roots alternative to the whole thing. The Show may be for million-pound gardens created by celebrity gardeners; the Fringe is for Mr and Mrs Joe Bloggs, ordinary people who just love flowers.
So all over London, participants in the Chelsea Fringe quietly got on with creating a great horticultural project. As the Independent reports, shops in Chiswick were engaged in nursing little apple trees, while church volunteers in Turnham Green made a beautiful partially-edible entrance border.
Meanwhile the Hogarth Roundabout, in a beautiful symbol of everything the Chelsea Fringe stands for, has been sown with wildflowers by volunteers. The startling blue cornflowers on the roundabout are the kind of free, grass-roots, no-pretension floral beauty that community events like this are all about. We're not saying it makes the whole Chelsea Flower Show look silly or anything, but sometimes it is nice just to see ordinary people take the time out to try to make a difference.
More of the great projects which took place as part o the Chelsea Fringe 2012 can be found on their official website: http://www.chelseafringe.com/