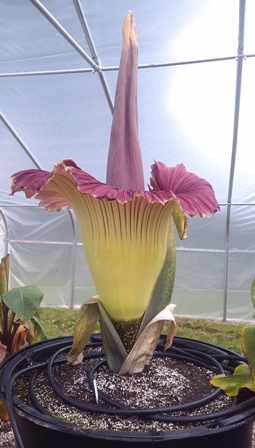 Photo courtesy Franklin Zoo

Last Friday, we brought you some amazing, if ugly, news about a fascinating Asian 'Corpse Flower' that stinks of rotten meat and steals its host plant's DNA – read all about it here. We even went so far as to suggest on our Twitter account that this might be 'the worst plant in the world'.
And now it looks like Corpse Flowers just can't stay out of the news, with another story about these horrible plants, uh, surfacing. In Franklin zoo in Boston, a different type of corpse plant – this one affectionately nicknamed 'Morticia' is about to bloom for the first time in many years.
The zoo staff have been surprised by the huge amount of interest which the flower has generated. Around 250 people have turned up to tour the greenhouse set up for 'Morticia', just in the hope of seeing this rare flower bloom, which only happens once every 5 – 15 years. This is particularly surprising when you consider that anyone who is around to see Morticia flower will be greeted by a pong of dead meat!
The zoo has been offering free admission to all those ken – or daft – enough to turn up in the hope of catching the vital moment. Already, the protective leaves which protect the petals are beginning to fall away – meaning that happy plant-watchers in Boston could be facing the big stink they've been waiting for any day soon.