Looking to order Roses but not sure which colour is best? Which such a wide variety of different flower meanings, our Rainbow Roses provide you with a stunning collection of bright, colorful roses to decorate your home with.
Rainbow Roses are sold all over the world including Italy, Holland, Sweden and Japan, and are created with a stunning blend of Red, Yellow, Pink and Green colours.These roses also include a free selection of chocolates, making it a firm favourite when buying them as a gift.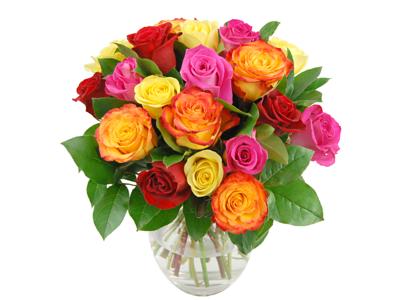 These multi-coloured roses have been beautifully arranged in a Bouquet with rich green leaves as a back drop for an added visual contrast. As you can see from the picture of these rainbow roses, they are perfect to brighten up your home this winter.
Each rose included has its own meaning: Red signifying love and romance, Orange Roses are a sign of desire and pride, Yellow Roses are a sign of Friendship and Respect and Pink roses are used to show happiness and admiration.
A guaranteed eye pleaser, our Fresh Cut Rainbow Roses bouquet are best suited for placing in a vase, and should you be short on vases we can include one with your delivery for an additional £4.95.