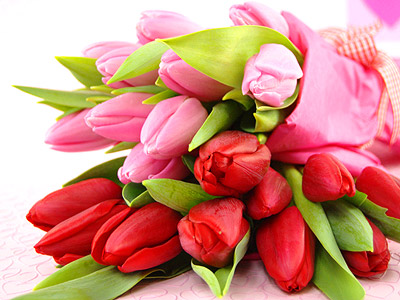 With Valentine's Day fast approaching, now is a good time to start planning a romantic gift for your sweetheart ahead of the February rush. Roses are the obvious choice if you are considering sending flowers for Valentine's Day. However, sometimes it pays not to be obvious; an unusual or unique gift can help set you apart and make you seem individualistic and original, traits which a potential sweetheart are sure to admire!
For this reason, we've decided to create an exciting new arrangement especially for Valentine's Day, the Valentine's Tulips Bouquet. Boasting the finest pink and red Dutch spring tulips, this colourful and bold bouquet comes lovingly wrapped in hot pink giftwrap to add that perfect romantic touch. We are currently offering £4 off this delightful bouquet as a special introductory offer, so get your order in now to save money as well as to have the peace of mind that your Valentine's gift is taken care of. That's one less load on your mind!
As with all our bouquets, there is the option to add Thornton's Chocolates, a large teddy bear, and a handwritten gift card for that extra special touch. Which means there's no excuse not to go all out and really spoil that special someone this Valentine's Day - go on, you know they deserve it!